A few days back we heard about the reintroduction of tigers after a decade in Panna Tiger Reserve of Madhya Pradesh taking the number of big cats to 50 from 0. Now, a similar success story has been confirmed in MP's Nauradehi Sanctuary where the camera has trapped the pictures of three cubs with their mother for the first time.
Background of the Story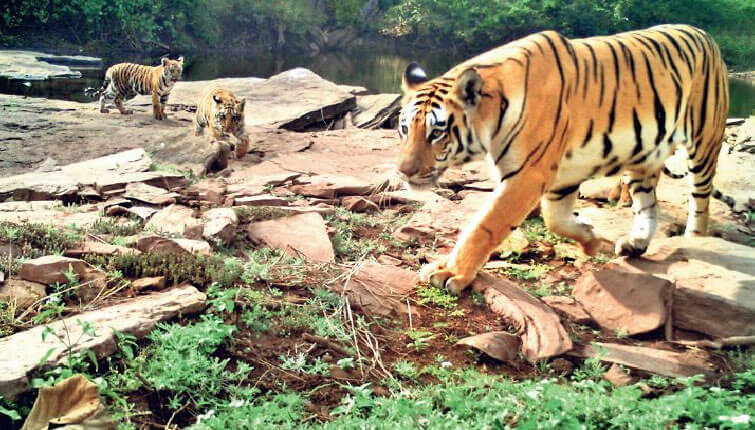 The big cats in Nauradehi Sanctuary were sighted about a decade ago. Taking steps in regard to growing the tiger population, a tigress named Radha from Kanha National Park and a tiger named Kishen from Bandhavgarh National Park were shifted in Nauradehi in April 2018. Initially, Radha and Kishen were housed in two different adjacent enclosures but later were released into the wild. Just like other tigers, Radha and Kishen were even coded as N1 and N2 respectively by the Nauradehi Sanctuary staff.
A Little More from the Story
Radha (N1) was born to the famous Nullah Baghin of Pench Tiger Reserve. Right after her mother's death when Radha was three years old, she was reared in an enclosure in Kanha National Park for two years and for three months before she was relocated to Nauradehi Sanctuary. Unlike Radha, Kishen (N2) was ferocious when he was brought from Bandhavgarh National Park. Even he was placed in an enclosure but out of fierceness he broke the cage and tried to vanish in the jungle. But it was then, the rescue team of Bandhavgarh National Park rushed behind Kishen to recapture.
What the Forest Officials Have to Say?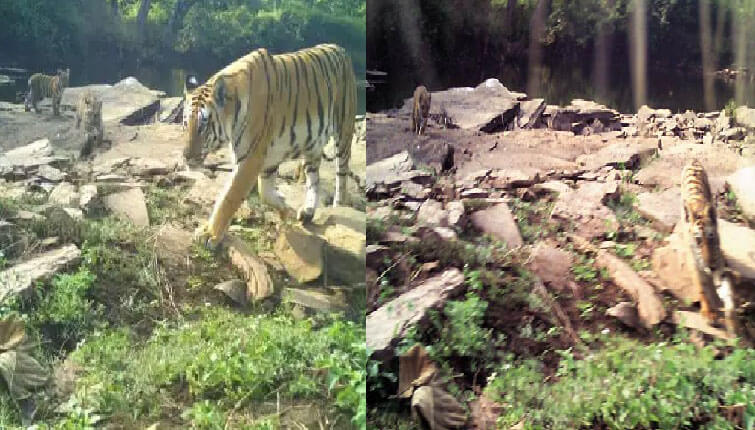 Divisional Forest Official (DFO) Nauradehi Naveen Garg is of the belief that the cubs were born somewhere in the month of June or July 2019. But it is almost after two years since the tigers were brought in Nauradehi, the first clear image of the three cubs with their mother was seen. He even added, two cubs were visible however the third one was hidden behind the mother and all four of them looked healthy.
About Nauradehi Sanctuary
Spread over an area of 1,197 km2 Sagar; Damoh; Narsinghpur; and Raisen districts, Nauradehi Sanctuary is considered to be the largest wildlife sanctuaries in Madhya Pradesh. The sanctuary was found to be the most suitable and potential site for the Cheetah Reintroduction Programme in India. Besides, the wildlife sanctuary is home to a varied flora, fauna and avifauna. The sanctuary remains open between November and June. However, the best time to visit is during the winter season between November and February when the weather is pleasant and in favour to explore the area in the best possible way.