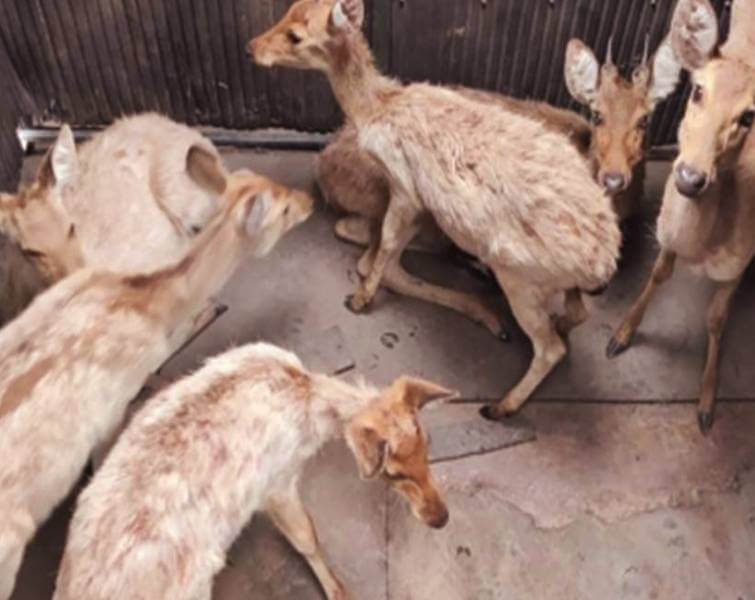 The second phase of Barasingha Reintroduction Programme completed by shifting another 18 reindeer or swamp deer or Barasingha from Kanha National Park to Bandhavgarh Tiger Reserve yesterday, on May 8. This time, the herd includes 16 females and two males whereas in the first phase of translocation, which happened on March 26, 19 Barasingha were shifted including 11 males and nine females. Now, after two phases of shifting, Bandhavgarh Tiger Reserve has received 37 swamp deer including 13 males and 25 females in total.
Similar to the previous translocation process, the animals have been released into the Magadhi Zone of Bandhavgarh, which is quite famous among wildlife enthusiasts for tiger sightings. The zone is also known as Gate No. 2 and it has several water bodies, grasslands as well as dense forests. The Barasinghas have been released into an enclosure of 50-hectare area which is specially made for this reintroduction programme. One of the officials stated that the enclosure is completely safe for the newly introduced species; it is carnivore-proof. The height of the fencing kept so high that even the big cats cannot jump over it. Moreover, arrangements are also done so that no animals can crawl on the ground and enter the enclosure.
Speaking of the Barasingha Reintroduction Programme, Bandhavgarh, the tiger reserve located in Madhya Pradesh, is renowned globally for its Bengal Tiger population and conservation initiatives. Despite the crucial role played by swamp deer in the forest's preservation efforts, they vanished without a trace almost a century ago, leaving no sign of their existence in the area. The centre has permitted Bandhavgarh Tiger Reserve authority to bring 100 swamp deer, with 50 this year, so that they can contribute to the health and ecosystem of the tiger reserve.
Reportedly, the plan is to keep the newly introduced Barasingha in the enclosure for three years and then release them in their natural habitat.
You May Also Like to Read: