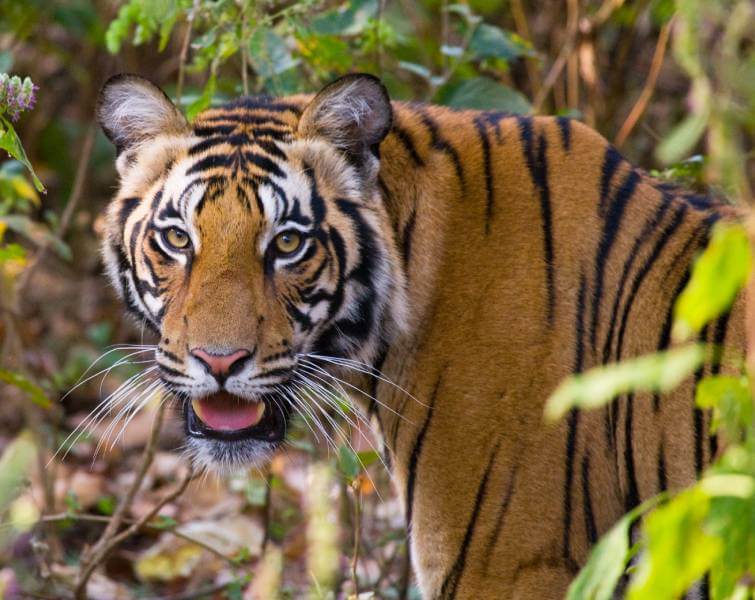 Madhya Pradesh, known as the "Heart of India," holds a strategic position, dividing the country into north and south. Its diverse geography ranges from the plains of Narmada and Tapti rivers to the Vindhya and Satpura mountain ranges. Boasting ancient temples, palaces, forts, and archaeological sites, the state has a rich historical heritage. With its national parks, wildlife refuges, lush forests, waterfalls, rivers, and majestic hills, it's a paradise for nature and wildlife enthusiasts. Additionally, Madhya Pradesh offers a delightful culinary journey, from spicy street food in Indore to Malwa cuisine and regional delicacies like dal baffle, poha, and Bhutto ka kees.
Madhya Pradesh welcomes all types of travelers, providing an array of tourist attractions. Whether you seek historical treasures, safari adventures, vibrant culture, or serene natural beauty, this state promises an unforgettable experience.
Check out the most popular tour packages for Madhya Pradesh.
Kanha National Park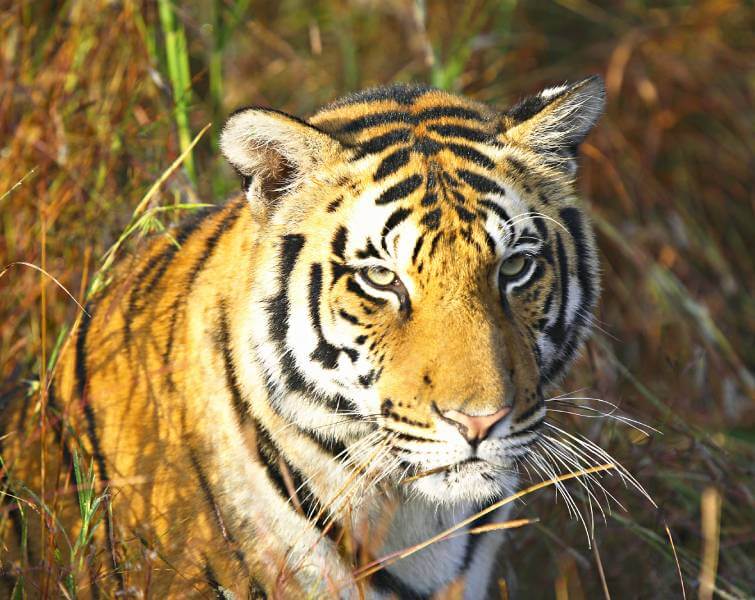 Kanha National Park is a mesmerizing wilderness that captivates tourists with its diverse species and scenic beauty. It is renowned as one of India's largest and most famous tiger sanctuaries, making it a popular wildlife destination in Madhya Pradesh. Encompassing approximately 940 square kilometers, Kanha is home to a wide range of species, including tigers, Indian leopards, sloth bears, Indian wild dogs, Indian gaur, and the emblematic barasingha. The park played a vital role in conserving the endangered swamp deer, also known as barasingha.
Celebrating the richness and variety of India's wildlife, Kanha National Park stands as a top attraction in Madhya Pradesh. Whether you're a nature enthusiast, wildlife photographer, or simply seeking an immersive wildlife experience, Kanha's stunning landscapes, thriving tiger population, and remarkable biodiversity are sure to leave you amazed.
Nearest Airport: The nearest airport to Kanha National Park is Jabalpur Airport (also known as Dumna Airport), located approximately 160 kilometers away.
Nearest Railway Station: Gondia Railway Station in Maharashtra is the closest railway station to Kanha National Park, with a distance of about 145 kilometers.
Bandhavgarh National Park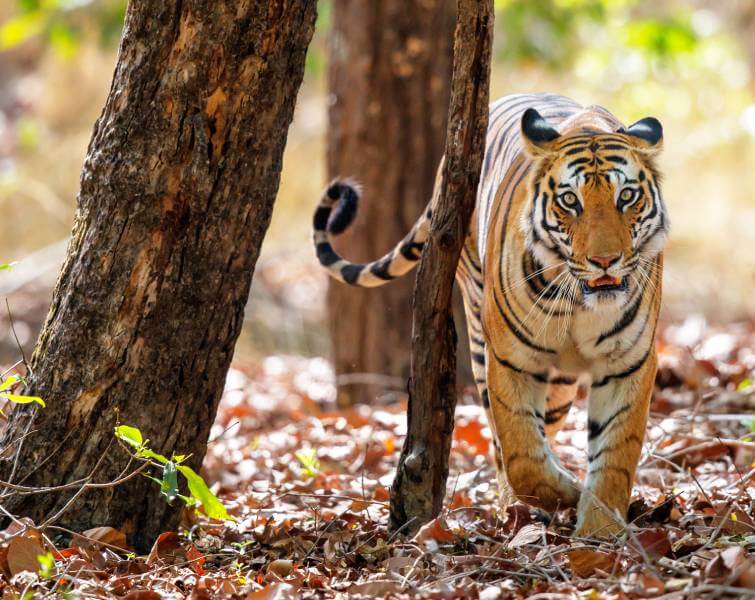 Bandhavgarh National Park, a renowned wildlife destination in Madhya Pradesh, is famous for its rich biodiversity, expansive forests, and historical significance. It stands as one of the most popular tiger reserves in the country.
Visitors to the park can enjoy both elephant and jeep safaris, offering diverse perspectives of the wildlife and surroundings. Jeep safaris, in particular, are highly favored as they allow exploration of the park's central regions, increasing the chances of wildlife sightings. Expert guides accompany the safaris, providing insights into the park's wildlife and ensuring a responsible and safe experience.
Nearest Airport: Jabalpur Airport, located approximately 200 kilometers away, serves as the closest airport to Bandhavgarh National Park.
Nearest Railway Station: Umaria Railway Station, situated around 35 kilometers from the park, serves as the nearest railway station.
*Note: Please be aware that currently, elephant safaris are prohibited in Bandhavgarh National Park.
Khajuraho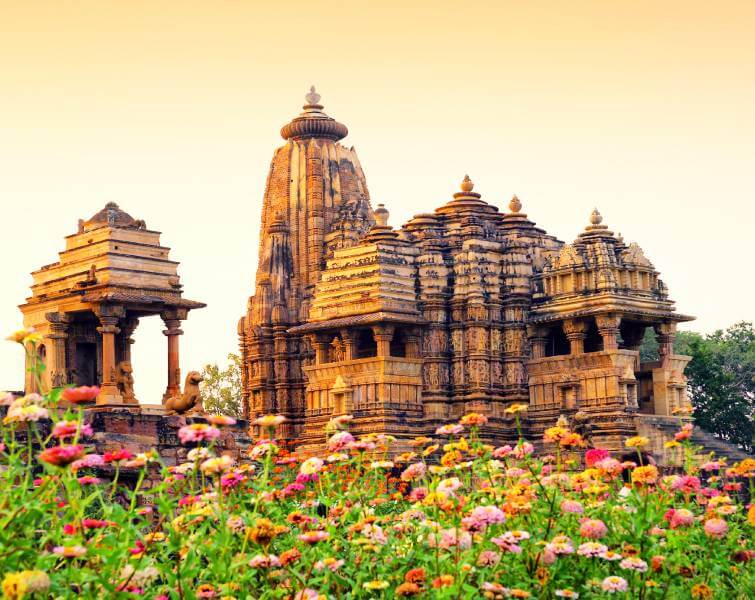 Khajuraho is a well-known tourist destination, renowned for its incredible collection of Jain and Hindu temples. These temples are famous for their exquisite carvings and stunning architectural design, making them prime examples of Indian temple art and architecture. Recognized as a UNESCO World Heritage Site, they play a significant role in Madhya Pradesh Tourism.
The temples are divided into three primary groups: the Western Group, the Eastern Group, and the Southern Group, spanning over a 20-kilometer area. The Western Group, which houses the most important temples, is particularly popular. Accommodation options in Khajuraho range from luxury five-star hotels and all-inclusive resorts to budget-friendly guesthouses. The town also offers a variety of restaurants, shops, and marketplaces, providing a glimpse into the local way of life and making it a top tourist destination.
Nearest Airport: Khajuraho Airport, also known as the Civil Aerodrome Khajuraho, serves as the closest airport to Khajuraho.
Nearest Railway Station: Khajuraho Railway Station, located approximately 5 kilometers away, is the nearest railway station to Khajuraho.
Gwalior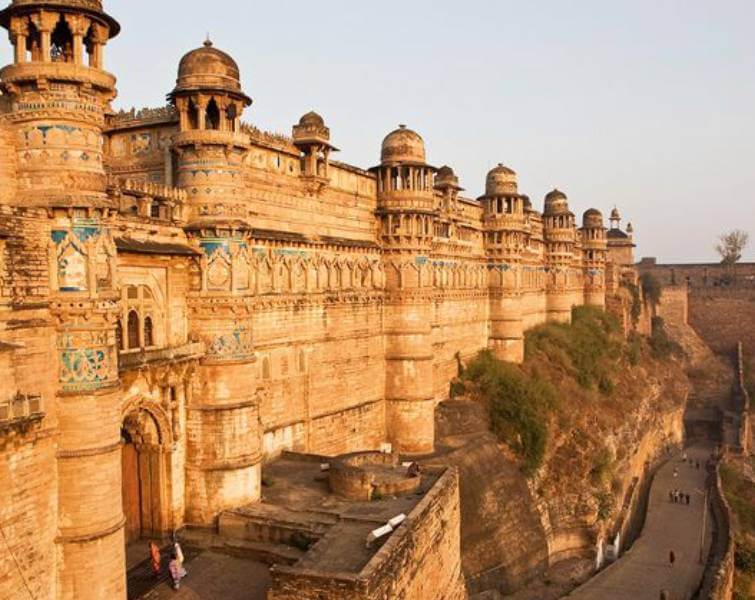 Gwalior is a historic city renowned for its impressive forts, magnificent palaces, and rich cultural heritage. Here are some popular tourist destinations in Gwalior:
Gwalior Fort: Known as the Gibraltar of India, this enormous fort perched on a cliff offers a breathtaking view of the entire city.
Jai Vilas Palace and Museum: Explore a vast collection of artifacts, including antique furniture, crystal chandeliers, paintings, and weapons, showcased at the museum.
Sas Bahu Temples: The Sahastrabahu Temples, commonly known as the Sas Bahu Temples, feature intricately sculpted Hindu temples dating back to the 9th century.
Tansen's Tomb: Pay homage to Tansen, one of Emperor Akbar's court's nine gems and a legendary musician in Indian history, at his tomb.
Gujari Mahal Archaeological Museum: Discover an extensive array of artifacts at the Gujari Mahal Archaeological Museum, showcasing the region's rich cultural legacy.
Nearest Airport: Rajmata Vijaya Raje Scindia Airport (Gwalior Airport) serves as the closest airport to Gwalior.
Nearest Railway Station: Gwalior Junction Railway Station offers excellent connectivity to various cities across the nation.
Orchha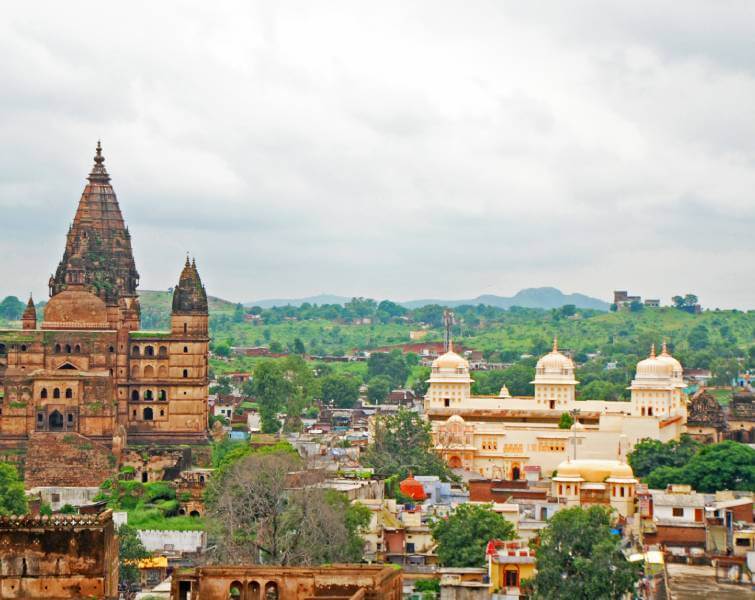 Orchha, located in Madhya Pradesh's Tikamgarh district, is a small town famous for its historical significance, exquisite palaces, and intricately carved temples. It stands as a popular tourist destination in Madhya Pradesh.
Popular Must-Visit Attractions in Orchha:
Orchha Fort: The Orchha Fort complex is the town's main attraction, featuring palaces, temples, and gardens, each showcasing beautiful architecture.
Chaturbhuj Temple: Dedicated to Lord Ram, the Chaturbhuj Temple is renowned for its stunning architecture and elaborate intricate carvings.
Ram Raja Temple: The unique Ram Raja Temple is the only place in India where Lord Rama is worshipped as a king, adding to its significance.
Rai Praveen Mahal: This charming palace was commissioned by Rai Praveen, a courtesan and poetess known for her beauty and talent.
Nearest Airport: The closest airport to Orchha is Gwalior Airport, located approximately 120 kilometers away.
Nearest Railway Station: Jhansi serves as the nearest major railway station to Orchha, situated around 20 kilometers away.
Sanchi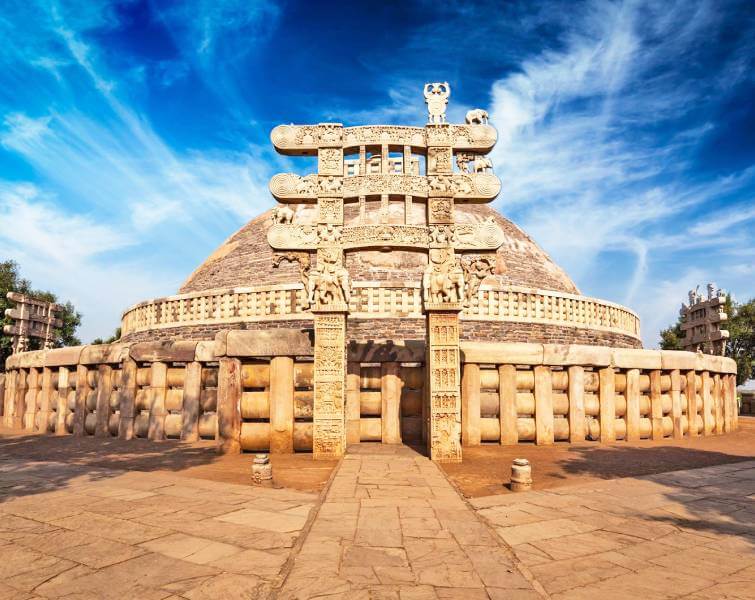 Sanchi is renowned for its ancient Buddhist structures, with the iconic Sanchi Stupa being the most famous among them. Considered one of India's significant Buddhist sites, it holds UNESCO World Heritage status and attracts numerous tourists to Madhya Pradesh.
Must-Visit Popular Attractions in Sanchi:
Sanchi Stupa: The magnificent Sanchi Stupa is the city's main tourist attraction, dating back to the third century BCE and representing a remarkable Buddhist structure.
Ashoka Pillar: Located near the Great Stupa, the Ashoka Pillar is a renowned structure in Sanchi with historical significance.
Sanchi Museum: Situated within walking distance of the Sanchi Stupa, the Sanchi Museum houses an impressive collection of Buddhist artifacts and sculptures.
Buddhist Viharas and Temples: Besides the Great Stupa, Sanchi is home to numerous Buddhist monasteries and temples, offering visitors a deeper immersion into Buddhist culture.
Nearest Airport: Raja Bhoj Airport in Bhopal, located approximately 50 kilometers away, serves as the closest airport to Sanchi.
Nearest Railway Station: Bhopal Junction, well-connected to major Indian cities, is the nearest railway station to Sanchi.
Panna National Park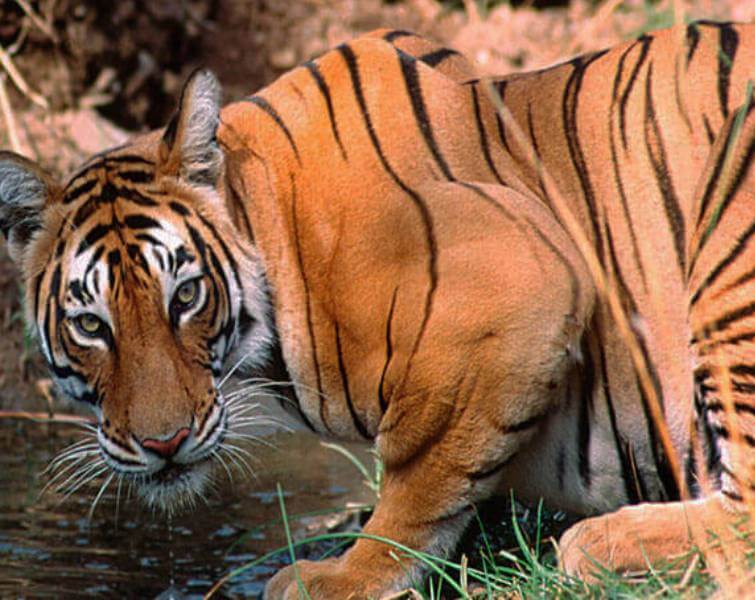 Panna National Park is renowned for its abundant biodiversity and picturesque sights. The park is home to over 200 bird species, including the majestic great Indian vulture, the white-backed vulture, and the enchanting paradise flycatcher.
To enhance visitors' experiences, the management of Panna National Park organizes jeep safaris, allowing them to witness the park's diverse wildlife and captivating landscapes. These safaris are led by knowledgeable naturalists and forest rangers, ensuring a safe and informative journey through the park's central areas.
Additionally, Panna National Park offers boat safaris on the Ken River, providing an unforgettable opportunity to explore the park's natural wonders from a unique perspective.
Nearest Airport: The closest airport to Panna National Park is Khajuraho Airport, situated approximately 30 kilometers away.
Nearest Railway Station: Satna Junction serves as the nearest railway station to Panna National Park, located at a distance of around 90 kilometers.
Pench Tiger Reserve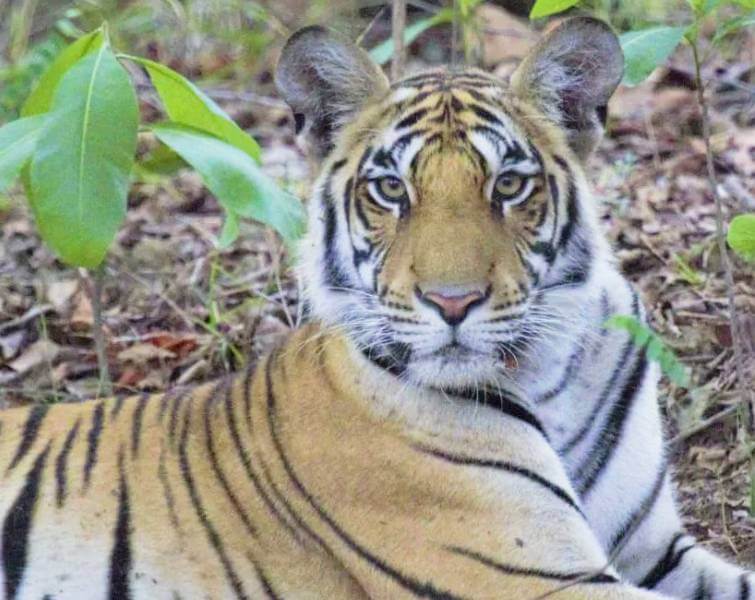 Pench Tiger Reserve, a sanctuary where dense forests, majestic tigers, and diverse wildlife thrive, spans across Madhya Pradesh and Maharashtra. It connects with Satpura Tiger Reserve, creating a haven for nature enthusiasts. The reserve boasts a rich variety of flora, including teak, sal, mahua, saja, and bamboo woods, providing a perfect environment for a wide range of animal species.
A jungle safari is the main attraction for tourists, offering both jeep and elephant options to explore the park's remoteness and witness wildlife up close.
The park takes its name from the flowing Pench River, which not only sustains the reserve's flora and fauna but also provides breathtaking views, enhancing its allure.
Pench Tiger Reserve also offers opportunities for nature hikes and bird watching, allowing visitors to explore the area on foot while being guided by experts who share insights about the local flora and fauna.
Nearest Airport- The nearest airport to Pench Tiger Reserve is the Dr. Babasaheb Ambedkar International Airport in Nagpur, Maharashtra, located approximately 88 km away.
Nearest Railway Station – Seoni railway station and Jabalpur railway station serve as the closest railway stations.
Bhopal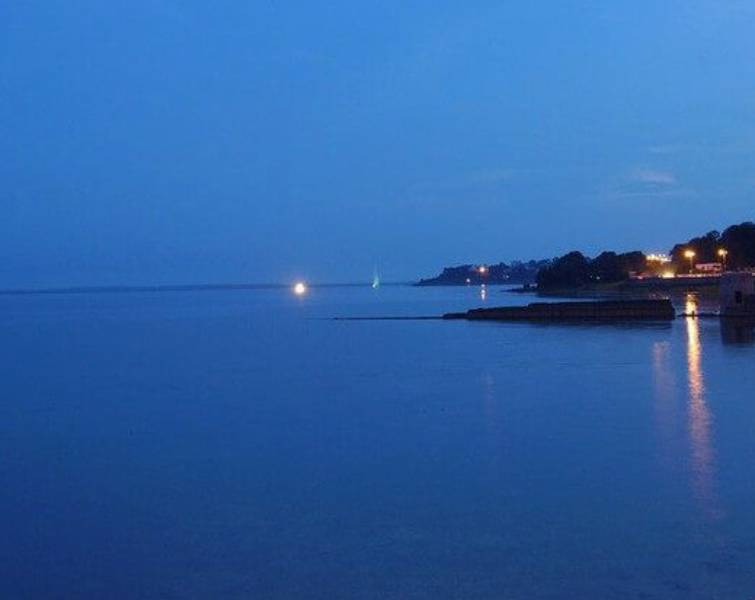 Madhya Pradesh's capital, Bhopal, offers a unique blend of historical and cultural significance, along with scenic beauty. When visiting Bhopal, explore the following places:
Bada Talab (Upper Lake): Asia's largest artificial lake. Enjoy a leisurely stroll along the promenade or a serene boat ride amidst tranquil surroundings.
Van Vihar National Park: Adjacent to Upper Lake, it's a rare combination of a national park and zoo, allowing animals to roam freely in their natural habitat.
Taj-ul-Masajid: Explore one of Asia's largest mosques, Taj-ul-Masajid, showcasing magnificent architecture and spiritual ambiance.
Bharat Bhavan: Immerse yourself in Bhopal's vibrant cultural scene at Bharat Bhavan, a multi-art complex featuring diverse art forms such as performing arts, literature, and visual arts.
Madhya Pradesh Tribal Museum: Delve into the rich history and culture of Madhya Pradesh at the State Museum, offering insights into the lives of indigenous tribes.
The nearest airport to Bhopal is Raja Bhoj International Airport, while Bhopal Junction serves as a major railway station, well-connected to various destinations across India.
 Pachmarhi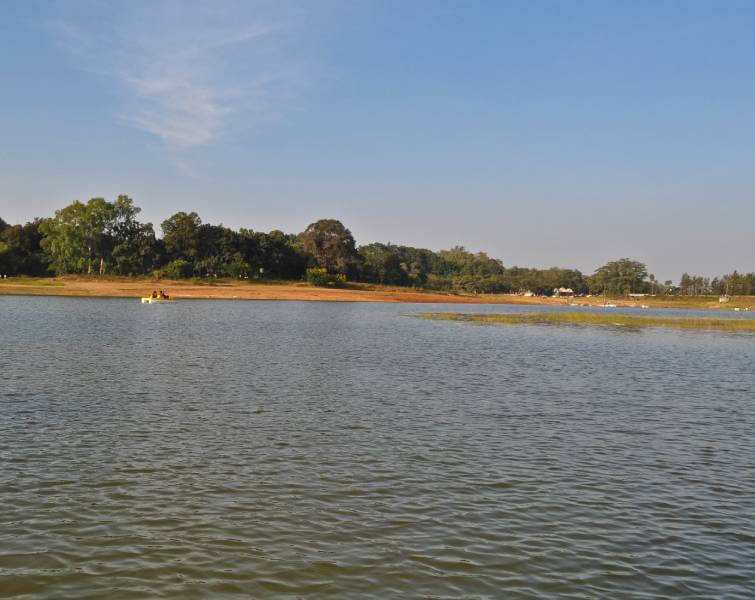 Due to its breathtaking landscapes and abundant natural beauty, Pachmarhi is often hailed as the "Queen of Satpura." Surrounded by dense woodlands, thundering waterfalls, narrow canyons, and picturesque valleys, this village stands as a top tourist destination.
Among the many stunning waterfalls in Pachmarhi, Bee Falls reigns supreme, while the region also boasts numerous historically and archaeologically significant ancient caves.
Pachmarhi is renowned for its traditional handicrafts and rich tribal history.
Situated in the Satpura Range, Pachmarhi offers ample opportunities for hiking and trekking enthusiasts. Its hills and valleys are adorned with a variety of trails leading to awe-inspiring vistas, hidden caves, and serene spots amidst nature.
The closest airport to Pachmarhi is Raja Bhoj Airport in Bhopal, approximately 195 kilometers away. The nearest railway station, Pipariya Railway Station, is located around 50 kilometers from Pachmarhi.
Other Interesting Blogs to Read