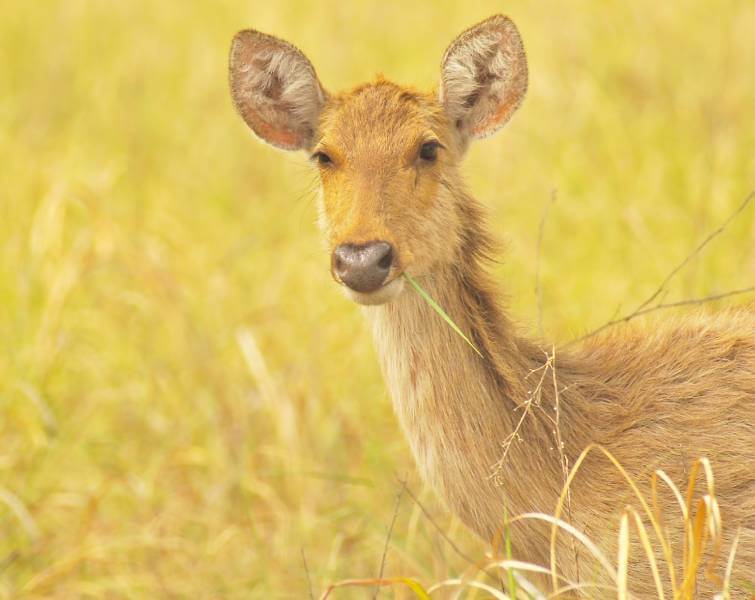 As a part of a reintroduction programme, Bandhavgarh Tiger reserve receives 19 swamp deer or Barasingha from Kanha National Park on Sunday, March 26, 2023. As per the reports, this is the first phase of the programme where 11 males and 9 females are released into Bandhavgarh. The goal of the programme is to release around 100 swamp deer to the tiger reserve in Madhya Pradesh.
Reportedly, the species have been released into the Magadhi Zone of the Bandhavgarh Tiger Reserve, which is also known as the Gate No. 2 of the tiger reserve. The zone features dense forests, grasslands and several manmade and natural water bodies where tiger sightings are common. That's why the swamp deer have been released to a newly set up enclosure, which has been designed to ensure that no carnivore can enter until the 19 deer adapt to their new environment.
#WATCH | Madhya Pradesh: 19 swamp deer brought from Kanha National Park and released into the enclosures at Magadhi Zone in Bandhavgarh Tiger Reserve on 26th March.

(Video: Bandhavgarh Tiger Reserve) pic.twitter.com/MMwnoq1F2F

— ANI MP/CG/Rajasthan (@ANI_MP_CG_RJ) March 27, 2023
The translocation is made in the presence of Madhya Pradesh Principal Chief Conservator of Forests (PCCF), J S Chouhan, Madhya Pradesh's Forest Minister, Kunwar Vijay Shah, field director of Bandhavgarh, Sudhir Mishra and several others. Reportedly, J S Chouhan, PCCF released the deer into the enclosure.
Sudhir Mishra also shared some facts about the reintroduction programme. He said "The Centre has permitted us to bring 100 swamp deer, with 50 in the first year. So, today 19 of them have been brought – 11 males and 8 females. We have made an enclosure here, that is carnivore-proof. No carnivorous animal can go in. We have elephants too & we have made arrangements to see that the elephants don't damage the enclosure." As per reports, the plan is to keep the newly introduced Barasinghas in the enclosure for three years and then release them into the wild.
However, the initial plan of the programme is to release at least 50 swamp deer into Bandhavgarh this year. The tiger reserve of Madhya Pradesh is famous in the world for its population of Bengal Tigers and its conservation efforts. Swamp deer play a vital role in the forest conservation efforts, but it is almost a century, they disappeared suddenly, leaving no trace in Bandhavgarh.
It is hoped that the Barasingha will thrive in their natural habitat, contributing to the overall health and biodiversity of the ecosystem in Bandhavgarh.
*Featured Image for Representational Purposes Only.