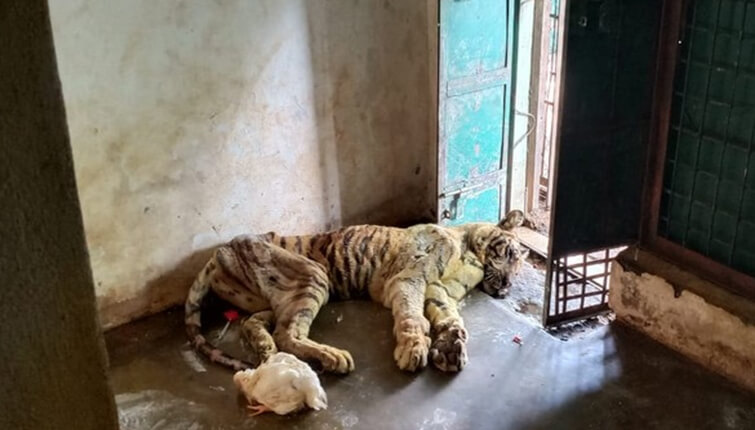 T-23, a 17 year old tigress, left us for her heavenly abode on Wednesday. She was one of the oldest tigresses in Bandhavgarh National Park. Officials said that they had rescued the tigress in an injured state from the jungle and were now treating her at Bathan enclosure in Tala zone of the park. However, she succumbed to her injuries late Wednesday night. In the photograph last released, she can be seen lying down, looking frail. A dead chicken, which could have been her next meal, lies next to her. Of late, Bandhavgarh National Park in Madhya Pradesh has witnessed the death of tigers and cubs in quick succession. It is particularly ironic because the state had reclaimed the title of tiger state by having the largest number of tigers in India, according to the recently released Tiger Census 2018.
Bandhavgarh witnesses a series of deaths
This is not the first death recorded in Bandhavgarh National Park this year. A few days back, three cubs and three tiger deaths were reported in a short interval of time. One of these cubs was found dead in a forest located in close proximity to Bandhavgarh. AK Joshi, the Chief Conservator of Forests (CCF), said that the death occurred due to infighting among tigers. The post mortem was conducted on the same day and the carcass disposed off.
In yet another incident which occurred just days before India's PM Narendra Modi released the Tiger Census 2018, a tigress and her cubs were found dead in Bandhavgarh National Park. This was followed by the death of another tiger cub aged between 15 and 18 months, whose body was recovered from the Ghunghuti forest range in Umaria district. Two days prior to this, the bodies of a seven year old tigress and her 10 month old cub were found by the forest department inside the Bandhavgarh National Park in the district of Umaria, which is situated about 500 km from Bhopal. After conducting an initial probe, the forest department said that they were killed by a male tiger. The question regarding which particular male tiger killed them both, however, remained unanswered.
According to the Bandhavgarh Tiger Reserve deputy director, AK Shukla, injury marks on the carcasses suggested terrotorial fights to be the cause behind their deaths. The carcass of a 10 month old cub was found in Kallawah range, and on the next day, the carcass of its mother, eight year old tigress T 62, was found in the same area. Figures from the National Tiger Conservation Authority (NCTA) tell us that Madhya Pradesh has lost 141 tigers since 2012. Replying to a question in the Vidhan Sabha during the monsoon season, the forest minister of the state Umang Singh answered that the state had recorded 23 dead tigers between October 2018 and June 2019.
Madhya Pradesh – The Tiger State
These deaths are a matter of concern particularly because Madhya Pradesh has reclaimed the title of being India's tiger state. The state was home to 318 tigers in 2014. That number has increased to 526 in 2018 tiger census. While this is a significant achievement, the alarming rate at which the state recorded tiger deaths in the past deserves our attention repeatedly.
According to a report by a wildlife group CLAW, which stands for Conservation Lenses and Wildlife, Madhya Pradesh recorded 12 tiger deaths in 2012, 9 in 2013, 14 in 2014, 11 in 2015 and 30 in 2016. These deaths were attributed to a variety of causes, including electrocution, territorial fights, poisoning and natural deaths.
Madhya Pradesh has always boasted a large tiger population ever since tiger reserves were introduced into the state. Poaching, however, continued to remain a constant threat, and assumed threatening proportions around 2009, when Panna National Park was cleared of all its tigers. The number of tigers in the state in 2010 was 257, against Karnataka's 300 in the same year. It was only by a globally recognised conservation effort that the park became a safe haven for tigers, before going on to become the tiger state of India.
Tiger conservation in MP – Challenges that lie ahead
There are several challenges that lie ahead, as far as tiger conservation in Madhya Pradesh is concerned. As the population of tigers increases in the state, so does their territory. This leads them to search for newer habitats, which results in territorial wars. It also brings the issue of human-tiger conflict into the question. The challenge then lies in bringing about a peaceful coexistence between tigers and humans. Poaching, which is the greatest menace to tiger conservation, has been controlled to a large extent. The other menace facing the tigers now is electrocution by locals who seek their organs because of their high demand in the local markets.