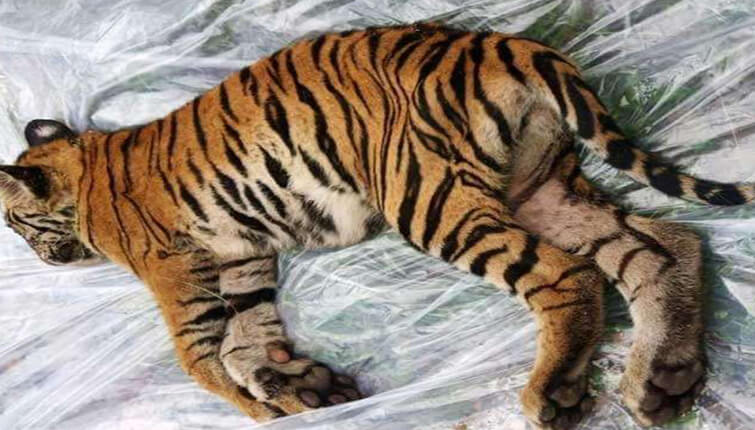 Bandhavgarh National Park in Madhya Pradesh continues to witness tiger deaths at an alarming rate. This time, it is a 4 year old cub who was abandoned by its mother, a tigress known as T-5, and was found wandering in a starved condition by park officials. He died while undergoing subsequent treatment. The unfortunate incident occurred at the Dhamokhar range of the park on late Friday night. The news comes across as particularly disturbing since it is the fifth such death in the past few weeks. The cub passed away on 16th August, which was a Friday, and cremated on Saturday, following a post mortem.
Abandoned and starved, it was undergoing treatment
Park officials say that the cub was rescued by a patrol team of park authorities after they found it wandering in the jungle in a starved state after being abandoned by its mother due to ill health. Authorities say that the cub was abandoned by its mother because it was found unfit to survive. It was one of the three cubs the tigress had given birth to. It was also the smallest and weakest of all the other cubs. It is a general practice among tigresses to abandon those cubs that are considered physically weak.
The cub was finally found by the patrolling authorities in the Magdhi range of the reserve and was subsequently shifted to an enclosure at Behra for treatment. However, it witnessed a deterioration in its health on Thursday before finally passing away on Friday. The director of Bandhavgarh National Park, commenting on the incident, said, "The cub had been abandoned by the Tigress T-5. A patrolling party found it alone and starving on 11th August in Magdhi range. We put it in enclosure. Our vet Dr. Nitin Gupta and we tried our best but could not save it".
A series of tiger deaths in Bandhavgarh National Park
Bandhavgarh National Park is counted among the most famous national parks & sanctuaries in India for its significant tiger population. Madhya Pradesh has done well in the sphere of tiger conservation, and reclaimed the tag of being India's tiger state. Since then, it has witnessed a couple of deaths in its tiger population.
Just a few days before days back, the grandmother of Bandhavgarh, Tigress T-23, passed away at 17 years of age. She was one of the oldest tigresses in the park and was undergoing treatment at Bathan enclosure in Tala zone of the park when she left for her heavenly abode. A few days before her death, a tigress and her cubs were found dead. Just a few days later, the body of another tiger cub aged between 15 and 18 months was recovered from the Ghunghuti forest range in Umaria district. This incident was preceded by the death of a seven year old tigress and her 10 month old cub.
Madhya Pradesh should live up to its reputation of being the tiger state
In the latest Tiger Census 2018, Madhya Pradesh reclaimed the tag of being India's tiger state with 526 tigers in the wild. Undoubtedly, this is a great achievement on the part of the state as far as tiger conservation is concerned. It is also a significant achievement because the number of tigers increased from 308 in 2014 to 526 in 2019. According to a report released by the National Tiger Conservation Authority (NCTA), of the 657 tigers that India lost between 2012 and 2017, Madhya Pradesh lost 141 tigers.
Another report by a wildlife group, Conservation Lenses and Wildlife, (CLAW), claimed that the state had lost a large number of tigers between 2012-2016 due to various reasons, including electrocution to poisoning. Even though it managed to record an impressive increase in its tiger population, the recent deaths are a cause for alarm, particularly because they have occurred in quick succession. While no one can doubt the state's claim of being a tiger state, it should direct its attention to the increasing number of tiger deaths for whatever reason they may be.