Who said travelling is easy? Well, it is unless and until you don't have to craft an itinerary by yourself, which includes everything, from tip to toe, to make a vacation indelible. Of all those essentials required for a perfect holiday, a good hotel or resort is one extremely important requisite for any traveller. And with Bandhavgarh National Park, you don't need to worry much about it as it boasts some excellent accommodation options for travellers. Whether you are looking for a high-end, luxury, deluxe, or standard accommodation options, here you can easily pick the one as per your budget and preference. To give you a brief insight into the best hotels and resorts in Bandhavgarh National Park, we have compiled a categorised list of some extremely comfortable accommodation options in and around the park.
Also Read: Best Value for Money Stay Options in Bandhavgarh
Best High-End Resorts:
Mahua Kothi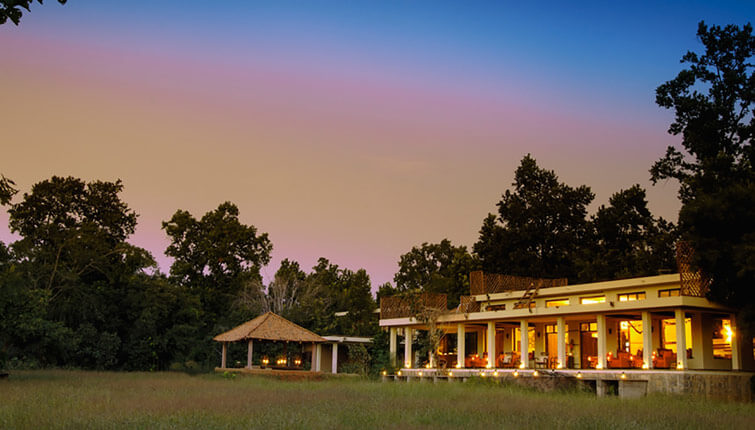 Named after the tree Mahua, Mahua Kothi is one of the famous Taj Resorts owned by Tata Group. It is one of the most lavishing options in Bandhavgarh Tiger Reserve one could ever get, and thus, has a huge hype in the region as luxury accommodation. Sprawls over a rambling area of 45 acres, this private resort is located on the suburbs of the park, and thus, is at a distance of just 10 km from the park's entrance. In total, Mahua Kothi has 12 standalone cottages or 'kutiyas' and also the charming homestead 'kothi'.
The kutiyas are built in a vernacular design that are fully furnished and air-conditioned. One can get the access of these kutiyas from a private courtyard. Besides, the resort also has a traditional garden, swimming pool, safari shop and an interactive kitchen. For tourists, Mahua Kothi offers some enthralling amenities which include an outdoor pool, spa centre – Jiva, gym, Wifi, and much more. There is also a separate dining space which includes a large fireplace to proffer guests a pleasing and comfortable ambiance in winters.
Facilities: Wifi, restaurant, 24/7 room service, spa centre, gym, outdoor pool, pickup & drop, power backup, 24-hour in-room dining, safari shop, safe deposit locker, private butlers, attached bathrooms, toiletries, and front desk.
Syna Tiger Resort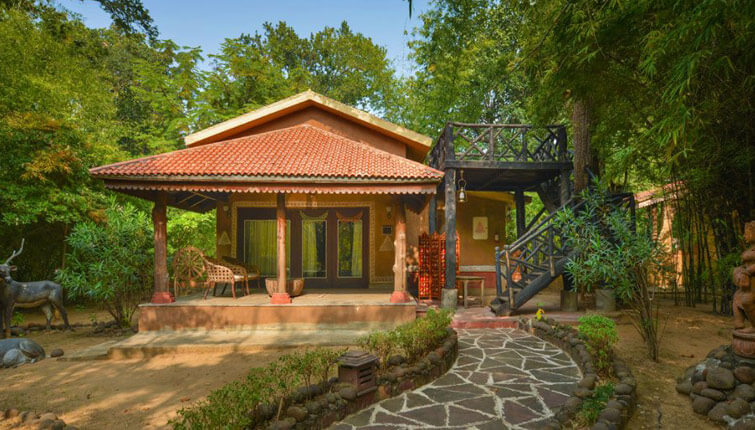 Another luxurious accommodation in Bandhavgarh National Park is Syna Tiger Resort. Counted amongst the most popular wildlife hotels and resorts in Bandhavgarh, Syna is spread over a large area of 85 acres land with 15 luxury cottages in its fold. These are the forest theme-based cottages that are fully air-conditioned and are well equipped with elegant furniture, beautiful interior and a separate sitting area. Overall, Syna Tiger Resort is a beautiful retreat for your indelible vacation time amidst the wildlife in Bandhavgarh National Park.
Whether you are on a solo trip, family excursion or a honeymoon vacation, this beautifully built resort is the perfect place and undoubtedly the most comfortable place to have a stay in Bandhavgarh National Park. Located just at a distance of around 200 m from the Tala entrance gate of the reserve, the resort proffers some enthralling facilities which also include a separate multi cuisine restaurant, swimming pool and outdoor BBQ.
Facilities: Fitness centre, attached bathroom with hot and cold running water, swimming pool, outdoor BBQ, and 24/7 room service.
Popular Luxury Resorts Options:
Tree House Hideaway Resort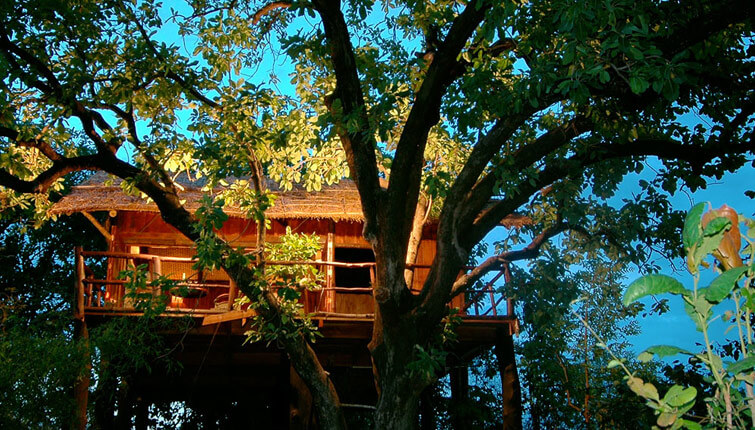 How many times have dreamed of staying atop of tree? Tree House Hideaway Resort in Bandhavgarh National Park gives you the exact same experience you have ever wished to savour. Rated amongst the best jungle resorts in Bandhavgarh, Tree House Hideaway is built in a massive area of 21 acres land. Tree House is indeed a fantasy accommodation with contemporary design which is well put-up in reality with traditional jungle living here in Bandhavgarh Tiger Reserve.
The resort has five tree houses in total that are well complemented with a beautiful interior, power backup attached bathroom with all-time water facility, mini bar, living area, AC and separate balconies. The names of these five hideaways are kept on the names of the tree on which they are built. These are Tendu, Mahua, Palaash, Peepal and Banyan. The resort has a separate dining hall which is established around the Mahua tree. This dining hall has two level; the first one is a dining space whereas, the second is a bar cum lounge – The Watering Hole. Continental, Indian and Barbeque meals are served at this dining place that you can relish while admiring the nature's beauty.
Facilities: Room service, front desk, mini bar, power backup, BBQ, and dining hall.
Bandhav Vilas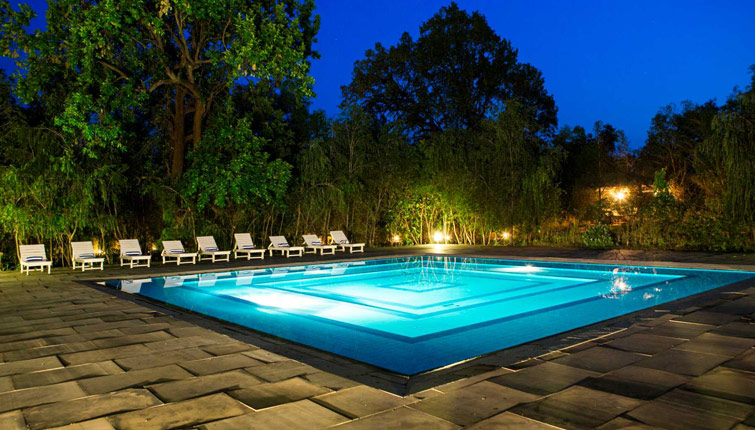 A perfect retreat for your wildlife holidays in Bandhavgarh is Bandhav Vilas. Nurtured by the beautiful hill of Vindhya, Bandhav Vilas is one of those luxury resorts in Bandhavgarh National Park where you can expect to relish a cosy and comfortable stay on your holidays. For that, the resort has private sit outs and decks from where you can relish the dramatic views of the nature-filled surrounding.
All the rooms at Bandhav Vilas are above 1000 sq ft that are fully air-conditioned and are equipped with elegant furniture, private courtyard, spacious attached bathroom, private sit outs wifi connectivity, telephone, coffee/tea maker, rain shower, private deck and more such amenities. Not just this, the resort also includes an open-air dining area along with a sophisticated bar to help visitors to get relaxed with some amazing drinks. There is also a swimming pool and a spa centre where you can soothe your mind, body and soul.
Facilities: Wifi, room service, 24-hour front desk, attached bathroom, rain shower, tea/coffee maker, private deck, open-air multi cuisine restaurant, bar, swimming pool, massage centre, laundry service, doctor on call, private courtyard, hairdryer, LED TV and safe deposit box.
Kings Lodge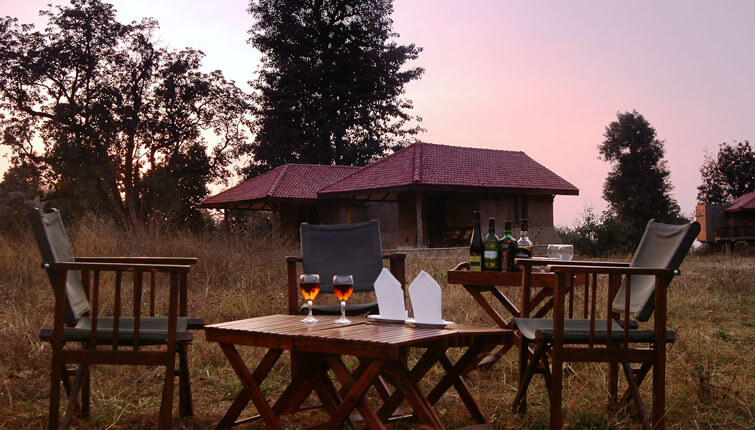 If you want to savour the perfect mix of natural abundance and luxurious hospitality then Kings Lodge is the perfect place to book your stay in Bandhavgarh National Park. Located in Ranccha Village just at 10 minutes of distance from Tala entrance gate of the park, Kings Lodge is a luxury lodge built amidst a large forest estate sprawls in a massive area of 14 hectares. In total, the resort has 10 cottage rooms and 8 stilt cottage rooms; each of which is beautifully designed with exquisite interior and attached bathroom.
From the rooms, guests can enjoy the exotic views of the surrounding. Besides, the airy rooms at Kings Lodge are equipped with window mats, electric cattle, decorative antiques and air conditioning. Along with that, this family-friendly resort in Bandhavgarh also has a separate dining space, outdoor BBQ an in-house spa centre, swimming pool and a small library. With their remarkable hospitality, King Lodge leaves an indelible imprint on the tourists' mind and also aims to proffer them the best of their services.
Facilities: Outdoor BBQ, outdoor swimming pool, spa centre, nature library, kitchen garden, butterfly farm, room service, front desk, bar, restaurant, laundry, meeting and banquet hall.
Best Deluxe Resorts Options:
Maharaja Royal Retreat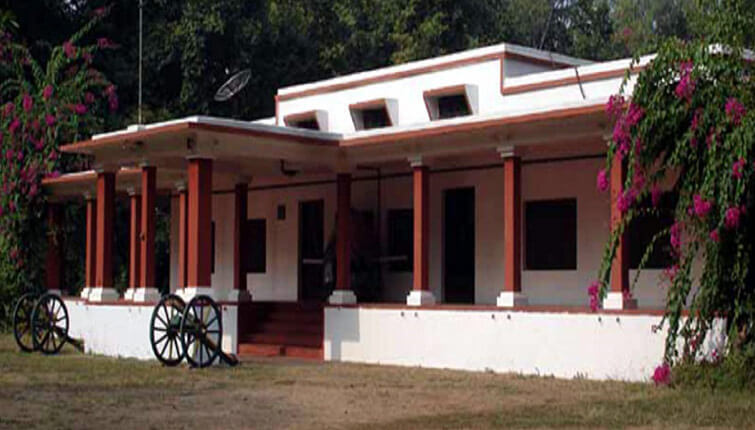 Located in Tala village, Maharaja Royal Retreat is one of the best options to stay in Bandhavgarh for those who are looking for a deluxe accommodation. Owned by the Maharaja of Rewe, the resort was once the family's hunting lodge and is now serving as one of the best accommodation in Bandhavgarh National Park. Spread over a large area of 16 acres land, Maharaja Royal Retreat is the only heritage hotel in Bandhavgarh. The resort gives tourists an insight into rich historical past through their royal camps that offers a cosy and comfortable stay.
These camps at Maharaja Royal Retreat boasts a beautiful interior and also displays a rich assortment of some armoury and books from the Royal era. There are 15 luxurious rooms that are equipped with twin bed and modern facilities like TV and telephone. The rooms at Maharaja Royal Retreats also has]ve attached bathrooms with running hot and cold water. For tourists, the resort also houses a library and a museum on royal hunting. A separate dining space with a multi cuisine restaurant adds another charm in the hospitality of this beautifully built resort.
Facilities: front desk, multi cuisine restaurant, room service, attached bathroom, TV, library and museum.
Nature Heritage Resort
Nature Heritage Resort is said to be one of the most popular options for the best luxury accommodation in Bandhavgarh. It is amongst those magnificently built resorts with impressive architecture and elegant interior that gives tourists a touch of luxury at a minimal tariff. Nature Heritage Resort has 25 luxury cottages fully air-conditioned and well-furnished with a private verandah overlooking the gorgeous hills of Vindhyachal.
All the rooms at Nature Heritage Resort are adorned with the modern amenities including attached bathrooms with hot and cold running water. Apart from a comfortable stay, the resort also houses an in-house multi cuisine restaurant which serves some delectable cuisines on the plates of the guests. If you are planning a family trip to Bandhavgarh National Park, Nature Heritage Resort can be the best place for your family to stay.
Facilities: Multi cuisine restaurant, laundry, Wifi, conference room, business centre, telephone, nature shop, 24-hour power back, library, swimming pool, spa centre, campfire, room service, and front desk.
Bandhavgarh Jungle Resort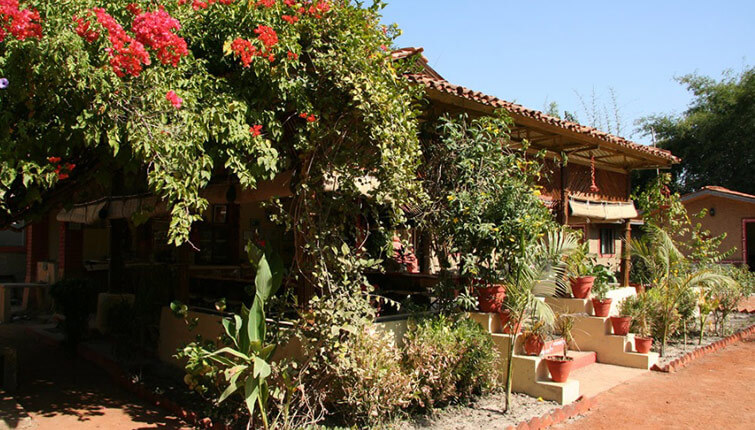 Established in the year 1987, Bandhavgarh Jungle Resort is a perfect vacation retreat for a family vacation in Bandhavgarh National Park. For tourists, there are 13 fully spacious cottages and 8 rooms in two separate villas that make a total of 21 rooms in both single and twin bed options. All these rooms are built in an Indian village theme and are nurtured with modern amenities like attached bathrooms and elegant furniture. Besides the rooms, the hospitality of Bandhavgarh Jungle Resort also includes a separate dining room which serves some delectable Indian and Continental cuisines.
At the dining area, one can also enjoy campfire performances along with star gazing. Apart from this, there is also a sit out area, known as Gole Ghar, which is basically an ideal spot to relish the morning breeze while having breakfast. On a whole, a stay in this magnificent resort is one of those beautiful experiences of wildlife vacation in Bandhavgarh that you will cherish for a long.
Facilities: Attached bathroom with hot and cold running water, dining area, room service, front desk, sit out area, organic farm, nursery, and LED TV.
Hotel Tigergarh Resort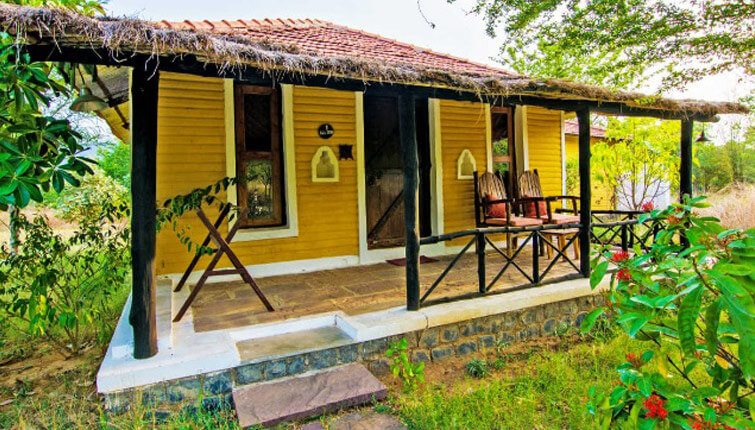 You Bandhavgarh vacation cannot be complete if you didn't spend it in a luxurious accommodation like Hotel Tigergarh Resort. Amidst the perfect mix of serenity, tranquility and nature, Hotel Tigergarh Resort is a synonym of home away from home. Along with a lavishing experience, the resort also aims to fulfil each and every requirement and necessity of their guests during their stay with them. Situated near Ramchha village, this beautiful resort has 6 cottages in total. All of these cottages are fully air-conditioned and are well furnished with modern amenities. With king size beds, large windows overlooking the wide expanse of the forest, LED TV and sit out area with a small gorgeous garden, an accommodation at Hotel Tigergarh Resort becomes a home-like stay which you will hardly get anywhere else.
Besides, the rooms are also adorned with attached bathrooms with hot and cold running water along with other basic modern facilities. The resort also has a separate dining space – The Waterhole where you can have your meal while appreciating the exquisite architecture along with splendid art put up on walls that are ornamented with reused bottles. The Jungle Feast is a multi-cuisine restaurant at the Hotel Tiger Resort that pampers the taste buds of the guests with some exotic Indian, Chinese, Mughlai, and Continental fares.
Facilities: Room Service, front desk, LED TV, attached bathroom, private sit out area, laundry, indoor and outdoor games, swimming pool, multi cuisine restaurant, doctor on call, and tea and coffee maker.
Best Standard Category Resorts:
Mogli Jungle Resort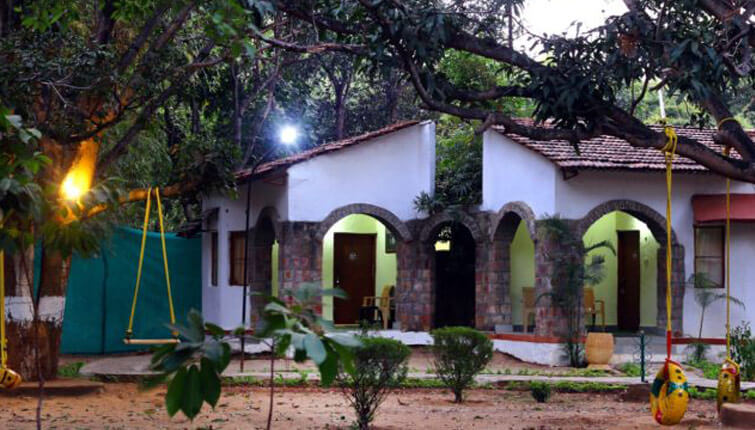 Probably, one of the most prefered option when it comes to budget accommodation in Bandhavgarh National Park is Mogli Jungle Resort. The resort is built in a massive 16 acres on the banks of River Charanganga. The beautiful sloping tiled roof cottages at Mogli Resort are well-equipped with all the modern facilities and amenities essential to make one's vacation unforgettable. Mogli Jungle Resort brings the pleasure of comfortability and cosiness and combines it with the taste of wildlife. Besides, this budget property also has a multi cuisine restaurant with a spacious dining hall overlooking the majestic fort of Bandhavgarh. Along with that, there is also an in-house bar where you can get yourself relaxed with their rejuvenating drinks. One can also indulge in some reading time at their in-house library or can also choose to get entertained by the tribal dance performance accompanied with a bonfire and a tempting dinner. Mogli Jungle Resort is also one of the kids' friendly hotels in Bandhavgarh as it offers a range of indoor and outdoor games along with a swimming pool.
Facilities: Bonfire, room service, front desk, attached bathrooms, garden, multi cuisine restaurant, meeting/banquet hall, luggage storage, tour desk, evening entertainment, library, outdoor pool, shared lounge, games room, and children's playground.
Wild Haven Resort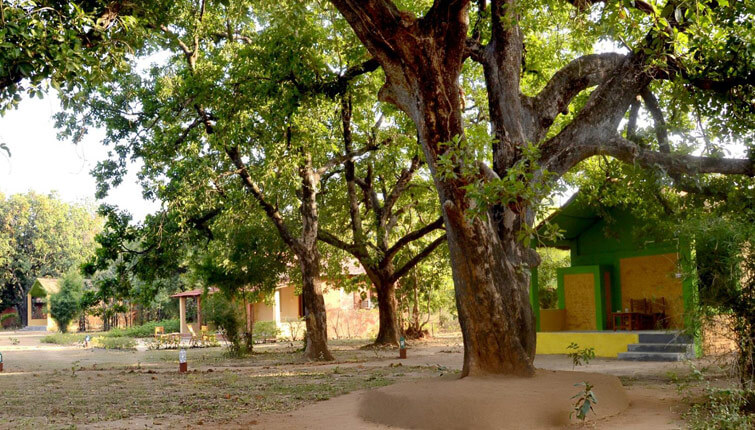 Wild Haven Resort is one of those popular budget hotels & resorts in Bandhavgarh that offer tourists an experience of a lifetime. Located at a distance of just a few metres from the main entrance of the park, Wild Haven Resort is spread over a large area of 8 acres land. The delighting experience of modern comfort with a touch of beautiful wildlife is something that no one can't afford to miss out while vacationing in Bandhavgarh National Park. For tourists, the resort has a total of 14 accommodation units in their vicinity. These units include 6 large cottages that are constructed traditionally, 5 hutments and 3 room villas. All the units Wild Haven are efficient enough in delivering a pleasant stay along with a modern comfort like a sit out area, attached bathrooms, air-conditioned and elegant furniture. Besides, there is also a separate spacious dining hall and a kitchen which serves some delectable meals.
Facilities: campfire area, modern bathrooms, room service, front desk, evening entertainment, laundry, internet access, travel desk, and newspaper.
Bagh Sarai Resort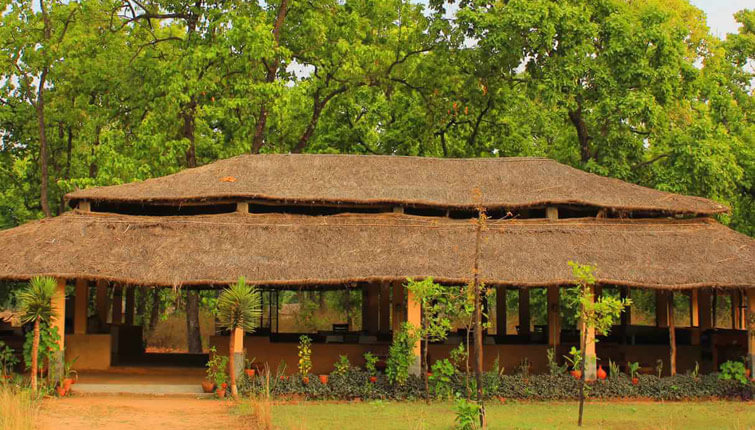 Located in Parasi Village, Bagh Sarai Resort is beautiful property in Bandhavgarh National Park spread over a large area of 20 acres land. With its remarkable services and warm hospitality, Bagh Sarai is counted amongst the top family-friendly resorts in Bandhavgarh. A stay at Bagh Sarai Resort gives tourists a chance to connect with the wild through its strategic location. In total, Bagh Sarai Resort has 7 luxury cottages tents. These are known as The Private Cottages (Jhopri). All the cottages at Bagh Sarai are adorned with king size bed, private bath, separate toilet, shower along with elegant furniture. There is also a multi cuisine restaurant, known as Sal Ghar, where you can have some delicious fares. Bagh Sarai Resort is one such property in Bandhavgarh which is magnificently built with a touch of traditional architecture and modern experience.
Facilities: Room service, front desk, modern bathroom, separate toilet, outdoor fireplace, picnic area, garden, BBQ, spa centre, multi cuisine restaurant, internet access, tour desk, dry cleaning, laundry, meeting/banquet facility, and car hire.
Greenwoods Resort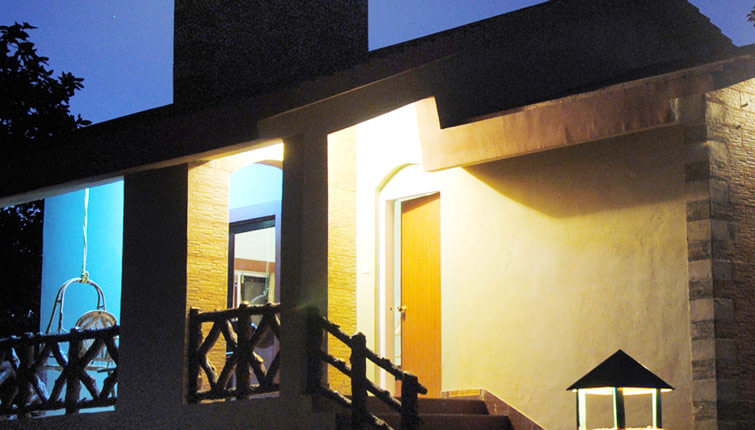 Stunning architecture, well-appointed rooms, warm hospitality, and impressive services – this is Greenwoods Resorts. Located at a distance of 6 km from Tala gate and 500 m from Patour gate, Greenwoods Resort is one of best places to stay in Bandhavgarh. The strategic location of the resort is touted as an ideal base to explore the park. Covering a total of 5 acres of area, the resort has 17 accommodation units for tourists. Amongst these units, 11 are independent luxury rooms, 4 are economy rooms and the remaining two are luxury Swiss tents. Not just this, all the units at Greenwoods Resort are well-appointed with elegant furniture and modern comfort that ensure to make one's stay indelible here. Moreover, the exterior of the resort perfectly gels with the pristine surrounding of wildlife. Besides, the resort has a fine dining space along with a fireplace where you get to enjoy the folk performances with your dinner.
Facilities: Room service, front desk, internet access, fine dining space, air-conditioned rooms, parking, in-house naturalists, transit facility, travel services, jeeps on hire, laundry, folk dance and music performance on request, room intercom, and attached bathrooms.
So, these were some hand-picked hotels and resorts of all categories that can be your hideout on a Bandhavgarh holiday. Hope you have liked the list! If so, then don't forget to drop your much-appreciated feedbacks, suggestions and queries. Also, if you want to book an accommodation in Bandhavgarh National Park, you can consider us to be your travel companion. With our services, you also get amazing deals and incredible discounts.